Last updated on August 22nd, 2022 at 02:10 pm
The Velocity Exercise Magnetic Rower is one of the best affordable magnetic rowers in the market! It is also known as the Velocity Exercise Magnetic Rower, Cap Barbell CHR-2001 Model recent product released. The magnetic Resistance design uses a Drum Magnetic Control (DMC) system to provide smooth, and very quiet adjustable resistance. The rower can provide Upper and lower body exercises.
This Rowing machine is best for a cardio workout. The Velocity Exercise Magnetic Rower comes with an advanced performance monitor to track all the progressive workout data. The velocity magnetic rower is also similar to the concept 2 model D exercise rower which is the best for fitness. The Velocity Exercise Magnetic Rower is a well rounded rowing machine with very good features.
Velocity exercise magnetic rower review description
If you are looking for a fitness machine that will help you to slim down and stay fit in the best shape from your own indoor gym, a rower is the best choice. This rower is a programmable magnetic Rowing machine. The Velocity Exercise Magnetic Rowing machine comes with Drum Magnetic Control (DMC) and electronic tension control that produces the optimum friction need to build muscle strength and enhance all endurance. With this very smooth magnetic resistance operation, this velocity Fitness magnetic rower aids you in perfecting your rowing experience. Velocity Exercise rower provides an aluminum frame, foam padded seat with non-slip foot pedals and LCD display. The LCD display showed your current performance like time, distance, calorie burned and increase your fitness goal. It includes 8 levels of adjustable magnetic resistance. During rowing, you will enjoy it 12 default workout programs.
Velocity Exercise Magnetic Rower Product Dimension
Product Dimension: 81 (L)x 21 (W)x 25 (H)inches
Folded Dimension:  43.3″ (L) x 20.1″(W) x 54.3″(H) inches
Product weight: 75 pounds
Warranty: 5-year warranty on frame, 90 days for monitor and 30 days on all other parts.
Velocity Exercise Magnetic Rower Features
Monitor and control panel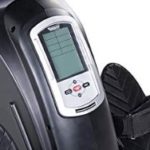 The Velocity Fitness Magnetic Rower comes with a 5-button multifunctional workout monitor. The monitor is located at the base of the rowing machine and easy to access while rowing. The Fitness monitor also keeps track of important workout data including Time, Distance (in km), Count Calories, and Strokes per minute, Watts and Pulse. It has a large blue backlit LCD display. This makes it easy to read from far away and low light setting control.
#Comfortable Seat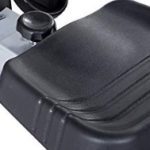 The Velocity magnetic Rower has a comfortable and large seat that is made of polyurethane leather. Before buying any exercise machine you have to be confirming that your exercise machine is well comfortable. All users mentioned the seat was very well padded, very comfortable to sit on and glide up and down the seat rail smoothly. The handles are also making padded to make sure your comfortable grip that doesn't need rowing gloves.
Flexible Footrest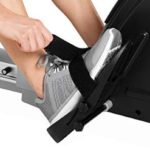 The Footrests are oversized with non-slip material and have Velcro straps to secure your feet while you rowing. The Velocity exercise rowing also pivots as you row for a more comfortable rowing motion. No issues were reported about the size, design, quality, handles, footrests, and comfort.
Storage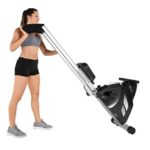 The velocity Rower has the ability to fold upright in seconds after an exercise. Simply remove a knob that secures the seat rail in place, fold the seat rail upright and reinsert the all knob back in place. When in storage mode, the rower resembles a vacuum and can be very easily stored in the closet or in the corner of a room. It also comes with concealed built-in wheels that make it easy to move around when you went.
Weight Capacity
The Velocity and cap barbell the weight capacity of this rowing machine is 275 pounds according to Cap Barbell. Overweight users can use the rower without any problem. As long as you are close to the weight capacity I hope you will be able. Leg inseam length is the most important metric to determine where a person is too short or too tall for a rower. According to my research, the velocity exercise magnetic rower is suitable for taller users up to 6 feet 4inch. A User says this rower capacity is very low. But I think he doesn't use properly than he says it.
Assembly
Most of the users mentioned the rower was extremely very easy to put together and took them between 20-40 minutes to fully assemble without any help. After looking at the instruction manual, I saw there aren't too many loose parts to put together, so I think why people had such easy assembly time. The Velocity Rower also provides all the necessary tools needed for assembly.
We Like:
Very quiet,
Super Smooth fluid rowing motion,
Very comfortable seat,
Comfortable Footrests and handles.
Eight adjustable resistance levels,
Large LCD display Monitor,
More than 12 program options,
Include Heart rate monitor,
Durable frame and great build quality,
Easy assemble the system,
Mid-range price.
We don't Like :
Short time warranty facility.
Why we love the Velocity Exercise Magnetic Rower
There is much reason to love the Velocity exercise, magnetic rower. The first reason magnetic resistance is a greatly featured rower. Present time most of the rowing machine has included magnetic resistance that a great sign for all rowing exercises. Second, this is good news for all tall users that a rowing machine also helps for the tall user. But short users will feel right at home as well. The rowing machine is both adjustable and comfortable due to its large PU saddle. Padded handles make for a firm grip and that will help hand for tiring after a long exercise session and will reduce blisters.
Summary of the Velocity Exercise Rower
The Velocity Exercise Rower is a great mid-range rowing machine with excellent magnetic resistance a large LCD monitors and super builds quality. If you are looking for the least expensive magnetic rower with an adjustable monitor, the velocity exercise magnetic rower is for you! If the downsides are too much, then you should explore the alternative option below. I also recommend that the rower help with your all body workout.
Related Posts: