Last updated on August 26th, 2023 at 04:51 pm
Stamina is a very famous brand for the rowing machine. There is lots of rowing machine of this manufacturer and each of rower has a different mechanism and facility. The Stamina ATS Air Rower 1450 Rowing machine is a popular item. It offers smooth resistance with a fan flywheel. Many users say this is an excellent indoor rowing machine and even compare it to the Stamina ATS Air Rower 1405 and Stamina ATS 1399 rowing machine.
If you are looking for these health benefits, the stamina ATS air rower super-sturdy rowing machine 35-1405 may be the home rower for you! By the end of the stamina ATS 1405 air rower review, you will be able to decide if this Air rower is for you or not! I hope this affordable Stamina rower can fill up your full body workout mission.
Stamina ATS 1405 Description
Increase your rowing exercise with the stamina 35-1405 ATS Rower. Designed with an extra-sized seat rail and a comfortable molded seat, you will easily burn calories and enjoy doing it. It is made of sturdy steel; this rowing machine is very stable and provides outstanding performance in the long run. The rower comes with a comfortable molded seat that is great for any slim body shape.
The product metal rowing chain ensures a vigorous exercise and is very durable. This rowing machine has floor protectors that keep the floor from scratches and abrasions. In addition, a multifunctional electronic performance monitor displays the workout distance, workout time, workout calories, strokes, number, and strokes per minute to help you keep track of your exercise.
Stamina ATS 1405 air rower Dimension
Working Dimensions:

(78.5 X 19.75 X 31.5) ( LXWXH)

Storage Dimension:

(55.0X 19.75X 36.0)  ( LXWXH)

Packaging Dimension:

(53.25X 9.25X 27.5)  ( LXWXH)

Assembled Weight:

63 Ibs

Shipping Weight:

77 Ibs
Stamina ats 1405 air rower review and Features
The Rowing machine is widely famous as a power for full-body workout solution and helps to tone up muscle, improve heart health, and also burn fat. The Stamina ATS Air rower has the great features that users love it very much. Dynamic adjustable resistance is also providing for great rowing experience.
It is very easy to operate. Easy pull harder to increases and decrees resistance. No matter your intensity, your stroke will feel smooth and efficient thanks to the padded rowing handle and durable metal chain.
LCD Monitor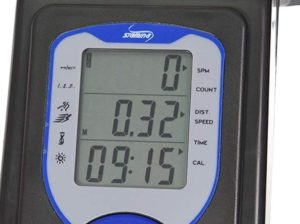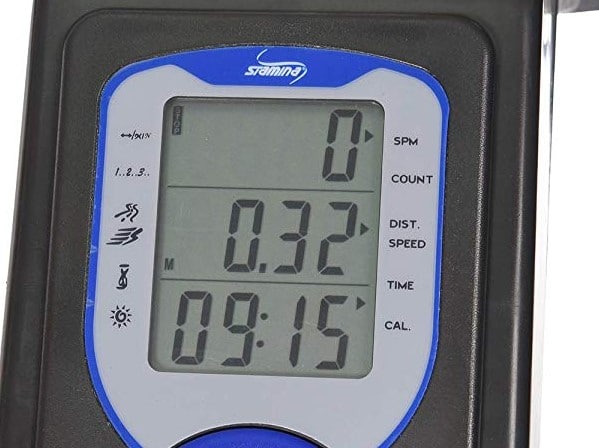 The stamina ATS air rowing machine super sturdy rower 35 1405 has a single button for LCD Monitor. The LCD monitor can track your SPM, Time, Distance, Speed, Calories burned.
The monitor is very normal and it really only has outstanding information for rowing. This monitor is typical for mid to low end rowing machines and is one feature that sets them apart from the higher-end models.
It also provides that some data such as time, calories, distance are not entirely accurate and should only be used to compare between workout and not used for exact data. Some user says that the LCD monitor shows wrong data but it is not right because all stamina products provide right and valid data.
Full Comfort seat and handlebar
The Stamina product also provides a comfortable foam padded seat that glides smoothly along with the seat. The large Adjustable footrests with non-slip straps, allow a user feet to be held securely in place while rowing. The rower also includes a foam grip handle that allows user hands to become less fatigued and provides a comfortable grip.
It is not issued that few users thinking that handle sometimes slip and cannot get a comfortable grip. But it is not true thinking because when user long time use than smooth some time it is a slip.
Storage Facility
The Stamina Rower provides the best storage facility. The rower can be stored by folding the fan assembly back onto the seat rail. To do this all you have to do is remove two pins, fold the fan and reinsert the pin. When it is folding the rower size is around 2.0 feet.
The Rower has wheels for easy portability so you can fold it and wheel it into any corner. There are also floor protectors to help protect any big surfaces when moving to prevent skidding in your exerciser zone. The rower doesn't provide stored vertical ability.
Why we love the Stamina ATS Rower 1405 Rowing machine?
The first reason to love, this product is a very affordable price and well known famous brand in the fitness world. The ATS rower provides a lot of conveniences in this rowing machine centered on comfort, storage, and durability. The rower feature like the large seat and large footrest keep you on the machine for a long time and will keep you coming back for more and more exercise. The new update metal pull chain is a great option you won't find on other rowing machines in this price range. I can assure that the rower full fill you all fitness goal.
We Like:
Affordable price,
Smooth and strong Dynamic air-adjustable resistance,
Great build quality,
Best customer review,
Very nice design,
Best wide range for capacity,
Easy to fold storage,
Easy to Assembly,
Transportation wheel.
We don't Like :
Missing hear rate monitor,
Basic LCD monitor,
It is not good for the warranty.
Is stamina ats air rower noisy?
The Stamina ATS Air Rower is known for its quiet operation. It has a dynamic air resistance system that generates smooth, quiet rowing motion. The rower is designed with a metal fan and a padded seat, contributing to minimizing noise during workouts. Users can enjoy a peaceful and uninterrupted exercise experience with the Stamina ATS Air Rower.
How sturdy is the stamina ats air rower?
The stamina ATS Air Rower is known for its sturdy construction and durability. It is built with a steel frame and features a robust flywheel design, which ensures smooth and consistent rowing motion. The rower also has a padded seat and adjustable footplates, providing comfort and stability during workouts. Users have reported that the rower can withstand intense and prolonged use without issues. Overall, the stamina ATS Air Rower is considered to be a reliable and sturdy piece of exercise equipment.
Bottom line
Rowing is the best option for indoor fitness and a great full-body workout that is a very low impact. Rowing can lose up to 800 calories an hour and could very well be the best fitness machine for weight loss. The ATS Air rower 1405 is one of the best mid-range rowing machines without air resistance. If built-in programs and heart rate monitoring aren't your priorities, then this could be the best choice. You'll be paying for the best quality basics instead of bells and whistles.
The ATS Air rower 1405 is likely to continue smoothly for many years. I am strongly recommending of this rower because the rower is very comfortable for quality. After all, if you're looking for a lot of outstanding updates and features, you're not going to find the one this machine but you must be able to improve your health and fitness at an affordable price.