Last updated on December 10th, 2021 at 03:06 am
Hi guys, Are you looking for a cheap water rower. Many users think that water rowers are the costly price. You can build your muscles using a regular routine with water rower and obviously without hitting the gym. Are you one of those super busy people who can't find time for proper gym time? Sunny Health and Fitness SF-RW5713 Water Rowing machine is one of the best indoor workout equipment for busy people.
Don't worry to enhance your body fitness because Sunny Health and Fitness SF-RW5713 Water Rowing machine is the best water Rower for your indoor fitness within the mid-level price. An indoor Rowing machine offers you a super excellent alternative of GYM and is a great beneficial investment. A Rowing machine Conventional exercise offers working out the upper body, lower body as well as core muscles. So it is a called full-body workout machine. Although, there is some exercise machine that offers a full-body workout. After reading The Sunny Health and Fitness water rowing machine review I hope you will like it.
Sunny Health & Fitness SF-RW5713 Description
Buy a high-quality machine for a high-quality exercise machine. This water rower will keep your exercise engaging and challenging. Some users reported that the rowing machine can work up to 85% of the body muscular system without any joint impact of other conventional cardio workouts. The Sunny Health and fitness rower super high-quality design for rowing experience. The Company also provides an excellent feature for customer expectations. The rower provides a great Digital LCD monitor to track your time, distance and burned calories. It has a great comfortable and adjustable seat for comfortable rowing experience. Even the most important things it is very space-saving and able to transportation wheels and folding capabilities of the full-body workout.
| | |
| --- | --- |
| Features | Parameters |
| Assembled Dimension: | 78. 7 inches X 22 inches X 33. 4 inches (L X W X H) |
| Product weight: | 81.6 Ibs |
| Users Weight capacity: | 250 Ibs |
| Frame: | steel |
| Warranty: | 3 Years |
Product Feature
The Sunny Health and fitness product also provides a great feature for excellent rowing experience. The rower includes LCD monitor tracking your workout time, workout distance and calories. The seat, paddle, and other equipment are also comfortable during exercise. Some expert says that rowing can work up to 85% of the body's muscular system without the joint impact of other conventional cardio exercises. During 15 years Sunny health and fitness have helped rower customers achieve their unique fitness goals.
Best Hydro –Blades
The Rowing machine offers a great design with top density hydro blades that work to create excellent resistance during workout time. This is a great hydro blade to fulfill your fitness goals. The paddles rotate and push against the water while withstanding water corrosion and without damage. Hydro blades are also made to endure vigorous rowing strokes and will keep up with multiple levels of water resistance. That is perfect water resistance for excellent rowing experience.
Digital LCD monitor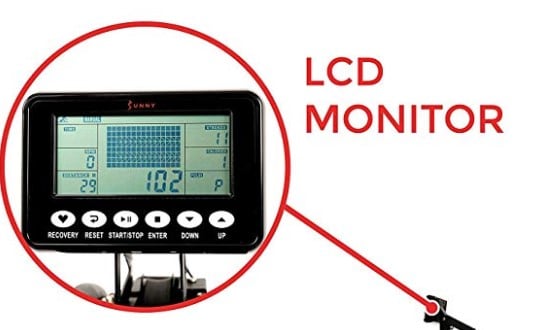 Every rowing machine tries to provide great, unique and outstanding looking Digital LCD monitor. The Rowing machine offer also a large LCD monitors the monitor tracking your present fitness workout progress. The monitor tracking your time, distance, burned calorie, and heart rate strap. If you workout with sunny health & fitness SF-RW5713 you must be a success your fitness goals
Transportation Wheels
If you went to transport this rower so it will solve your transpiration problem. It has a transportation wheel to move from one place to another place without any effort even out of the home. It very tilts and roll out for use or away for storage, no need for heavy lifting or muscle strain. The rower wheels at the front of the unit allow the user to move their bike around with very easy, from room to room or store it away out of the home.
Comfort
The seat slides on three sets of the wheel, which are equipped with ball bearing for smooth use and a prolonged lifespan. The rower offers great comfort during your workout time. One thing for every rower user it is very crucial think, before buying you can ensure your water rower must be able 100% comfortable without the comfort you can't enjoy an excellent rowing challenge. It is very comfortable for all users (man or women).
We Like:
Water resistance
Very durable
Lightweight
Easy transport
LCD monitors tracking time, distance, and calories and heart rate.
Easy to assembly
Smooth and very quiet
Little maintenance required
Recovery function
Affordable price
We don't Like :
Not include LED backlight
Some bad feedback
Why we Love the Sunny Health and Fitness Water rower
The Resistance level is very top quality and it is set by turning a knob or dial, and it is limited. For a water rower, there is no limitation because resistance is caused by the movement of three blades through the water. Overall the rowing machine is very comfortable for the price and top-level seat.
#bottom line
The Sunny Health and Fitness Sunny Health and Fitness SF-RW5713 is a high-quality water resistance rower featuring a durable steel frame, and an affordable price range console which can track time, distance, calories, and SPM. Get a high-quality machine for a high-quality workout. The rower is not a commercial-grade machine but does offer an outstanding, full-body aerobic workout. And finally, it is the best cheap water rower machine under $500.
Related Posts: