Last updated on August 16th, 2023 at 03:25 pm
Water rowing machines have become increasingly popular for home workouts due to their ability to provide full-body training and simulate the feeling of rowing on water. One such machine is the Merax water rowing machine, known for its sturdy design and smooth performance. This review will examine the Merax water rowing machine and evaluate its features, pros and cons, and overall value for money. If you are considering investing in a water rowing machine for your home gym, this review will help you decide if the Merax model is worth your investment.
Merax Water Rowing Machine reviews Product Description
Get a good and powerful rower to get an excellent body shape. Merax water rower is highly refined with solid steel construction for steady performance and durability, supporting up to 330 LBS. The unique inclined water tank ensures a flat position. Get a more effective aerobic exercise and your cardio health on the upswing.
The water rower machine provides a soothing glide miming the dynamic rowing movements across the real water experience. You will enjoy the relaxing water splashing inside the aqua-blue water tank or stream your favorite show without turning the sound too high. You will best water rowing challenge with the water rower machine.
Product dimension:

78" (L) X 20" (W) X 25.5" (H)

Resistance Type:

Water Resistant

Machine Weight:

72 LBS

Users weight capacity:

330LBS

Seat dimension:

12.5" X 10"

Frame Material:

Steel

Max Users Height:

Up to 6 feet is acceptable

Resistance quality:

Water Resistance rower

Warranty Policy:

One Year limited manufacturer warranty.
Key Features of the Merax Water Rowing Machine
The Merax water rowing machine has several features that make it popular among fitness enthusiasts. These features include:
LCD Monitor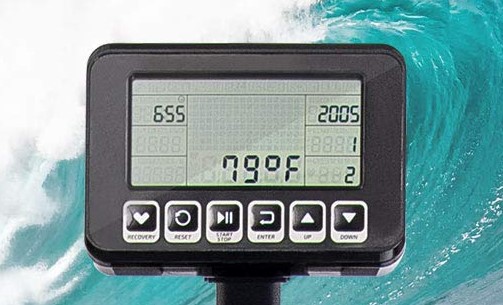 The machine's performance monitor displays your workout data, including time, distance, calories burned, and stroke rate. So it is an excellent invention for this water rowing machine. Quick start and stop options are included with the monitor system.
.
Ergonomic Design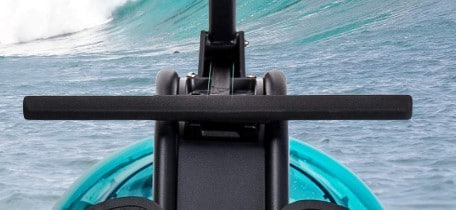 Twenty inches long ergonomic handles to maximize your best rowing challenge. The rowing seat offers a long workout with a comfortable contoured set molded. It is very comforting during exercise, and a 12″ extended footrest with a fully adjustable Velcro strap; securely pivots your feet during an intense rowing exercise.
Space-saving machine
The compact footprint with built-in wheels allows easy rolling indoors or outdoors of your room for easy storage. Most rowing machines do not include a storage facility, but this rower provides space-saving and full storage facilities.
Water tank and resistance system
Every water rowing comes with a solid polycarbonate water tank inside a multi-blade impeller. When you pull the soft handlebar, the impeller rotates into the water inside the tank, producing resistance. On the other hand, plenty of people asked me how much water support was in this tank. It has no specific answer, but around three or four gallons of water capacity have.
Water is a vital component in generating resistance, and if you add or remove more water, your resistance will increase or decrease. The water rower provides six levels of water resistance which is incredible for your water rowing.
Maintenance

Generally, no maintenance costs are required for this equipment. Only regular water changes should ensure that the waste does not fall. And remember that the rail is not damaged in any way because it is prevented from your water tank damage.
Easy to use
You want to ride the water rower but think that it is challenging to use. The rowing machine provides a smooth and quiet feel for natural and efficient exercise. Undoubtedly, it helps achieve fitness goals and gives you actual water rowing feels indoors.
Smooth water rowing machine
The Merax water rowing machine offers a soothing glide that mimics the dynamic water rowing movements across the actual water experience. You will enjoy the relaxing sound of water splashing inside the aqua blue water tank or stream your favorite show without turning the sound very high.
Sturdy Design

The Merax rowing machine is made of high-quality materials and can support up to 330 pounds. It has a comfortable seat and non-slip foot pedals for added stability.
Shipping and Assembly
The vendors shipped this rower in a short time. Many users say it shipped within 3 to 7 days of their order. Shipping costs will not vary for the Merax water rowing machine, depending on where you purchase from and your desired delivery type. However, some retailers will provide free shipping. The rower comes delivered with step-by-step assembly instructions that are easy to follow. Most of the main parts are assembled; you just need to connect the pieces. Assembly is super easy and should take around 20 minutes to complete.
Pros and Cons of the Merax Water Rowing Machine reviews

Before making a purchase, it's essential to consider the advantages and disadvantages of a product. Here are the pros and cons of the Merax water rowing machine:
Pros:
Provides a realistic rowing experience due to the water resistance system.

It can be adjusted to offer a range of resistance levels for a challenging workout.

Sturdy design and construction can support up to 330 pounds of weight.

Performance monitor helps track your workout progress and keep you motivated.

Easy to assemble and use.
Cons:
The water tank can be noisy during use.

The machine is relatively heavy and may be challenging to move around.

The foot pedals may not be comfortable for all users.

The device is not foldable for easy storage.
Why do we love the Merax water Rowing machine?
The best feature of the Merax water rower is, by far, the ability to monitor your heart rate while exercising. Heart rate training is the best way to meet your fitness progress through cardio training. By workout within your target heart zone, you can burn fat and improve cardio improvement performance. Depending on which of these is your fitness goal will depend on what percentage of your max heart rate will need to work out. So I am happy with this product and also recommend buying this product.
Does Merax water rower last for a long Time or is it sturdy?
Compared to the other water rower and compared to the price range, the merax water rower is a super sturdy water rower for an indoor workout. It has a different mode and resistance as per the workout requirements. You can use its slow, medium, and stiff resistance to increase and decrease the water quantity. Compared to other water rowers, it is very cheap and powerfully designed.
Comparison with Other Water Rowing Machines
To help you make an informed decision, comparing the Merax water rowing machine with other models in the market is beneficial. Here's how it stacks up against two other popular water rowing machines:
Concept2 Model D: The Concept2 Model D is one of the market's most popular water rowing machines. It uses air resistance to provide a smooth and challenging workout. The machine is also foldable for easy storage. However, it is significantly more expensive than the Merax rowing machine.
Stamina Body Trac Glider 1050: The Stamina Body Trac Glider 1050 is a budget-friendly water rowing machine with hydraulic resistance. It is lightweight and compact, making it easy to store in small spaces. However, it may not provide as challenging a workout as the Merax or Concept2 models. 
3 Best Water Rower Comparison
Product Title
Product Title
Merax® Water Rowing Machine
TOPIOM Water Rower Rowing Machine
WaterRower Club Rowing Machine with S4 Monitor
Max. Weight Capacity
Max. Weight Capacity
330 Pounds
400 Pounds
700 Pounds
Product Dimensions
Product Dimensions
78"D x 20"W x 25.5"H
82.68"D x 20.08"W x 22.05"H
82"D x 22"W x 20"H
Resistance Mechanism
Resistance Mechanism
Water Resistance
Water Resistance
Water Resistance
Frame Material
Frame Material
Aluminium
Wood
Wood
Foldable
Warranty
Warranty
1 yr limited
3 Yrs limited warranty
3 Yrs
User Reviews and Feedback
We looked at user reviews and feedback online to understand how the Merax water rowing machine performs in real-world use. Users have praised the machine's sturdiness, smooth performance, and easy assembly. Some users have noted that the water tank can be noisy during use, a common issue with most water rowing machines. Users have also appreciated the machine's adjustability and the fact that it provides a full-body workout.
Merax Water Rowing Machine reviews FAQS
Is a water rowing machine better?
It depends on your selection because different rowing machines give you extra benefits. The water rowing machine also provides a suitable type of resistance which is fantastic for your rowing journey.
Can you lose belly fat on a rowing Machine?
According to the Harvard University reports, 125 pounds (56.7 kg) can burn over 200 to 250 calories in just 30 minutes of workout at a moderate speed. Usually, low-impact and good resistance is the main reason for losing belly fat.
Summary
Overall, the Merax water rowing machine is a solid investment for anyone looking to improve their fitness and build muscle at home. It offers a realistic rowing experience, a range of resistance levels, and a performance monitor to help you track your progress. While it may not be as compact or budget-friendly as other models, its sturdiness and durability make it a worthwhile investment for serious fitness enthusiasts.