Rowing is widely acknowledged to be one of the best all-around fitness activities. All vital and major muscle groups including legs, arms, back, abdominal, and buttocks are used extensively while rowing. Like the best exercise machine, you're simultaneously toning muscles and burning calories while getting a great cardio exercise by rowing machine.
If you think for the stamina 35-1215 orbital rowing machine with free motion arms so you are thinking well. Because this specific equipment provides a full-body workout. It is a great invention for all rowing machine users. The stamina rowing machine is a hydraulic resistance, compact and within an affordable budget for the indoor workout.
Stamina 35-1215 Orbital Rowing Machine product description
It is also one of the best workouts for building a strong back, as well as one of the most effective low impact aerobic workouts for increasing your metabolism. As a result, you can efficiently burn calories and getting fitness without impacting your joints. The Stamina 35-1215 Orbital Rowing Machine With Free Motion Arms is a compact and portable rowing machine with a footprint of only (32.5" x 48") and weight of 47 pounds, yet is well made for years of strength and aerobic exercise.
The Multifunctional well-looking fitness single button monitor shows speed, time, distance, row count, calories burned and miles rowed. The stamina orbital rower has the full range of motion rowing for a truer rowing motion that mimics rowing on the water with a padded seat that glides on a ball bearing roller system, rowing machine arms with adjustable smooth hydraulic cylinder resistance, and foam grips that keep hand stable and suitable. It required some assembly that should not be more than one hour and I think that no helper also required during assembly.
Product dimension
Product dimension:48 (L)x 32.5 (W) x 27.75 (H)
Folded dimension:48 (L)x 45.5 (W) x 10 (H)
Features and specifications:
The good smooth hydraulic cylinder resistance provides smooth and consistent resistance. Finally, you feel a great workout experience.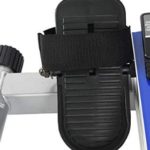 Its adjustable tension controls motions and this motion allows a full-body workout.The pivoting footplates with suitable nylon foot straps that are made with ergonomic design for the any-sized shoe. Floor protectors allow smooth moving and placing without any scratch on the floor. It has durable good steel constructions that allow a long time frame warranty up to five years. The feature is that Extruded aluminum beam and ball-bearing rolling seat. The adjustable beam inclines for the more vigorous workout.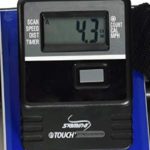 Multi-function large LCD display monitor can show you your total workout data at a glance. The display shows Speed, Time, Distance, Calories, Row count, etc. In the scan mode, the display rotates through the data points and shows each and every six seconds per exercise.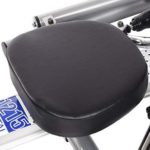 The Cushioned seat allows great feelings during a workout. Due to its durable structure Maximum weight capacity is 250 lbs.
folding rowing
arms for storing and can be stored under the sofa or bed.
Stamina 35-1215 Orbital Rowing Machine Warranty:
It offers a great warranty period for users. The manufacturer previews Five years for frame and 90 days for parts warranty.
We Like:
Smooth hydraulic cylinder resistance,
Adjustable tension control,
Good looking LCD monitor,
Suitable thick padded seat,
Affordable price,
Easy Portable structure for storage,
Simple and easy assembly,
Best warranty policy.
We don't Like :
Hard work for rowing,
Missing of heart rate monitor,
Lack of advanced features.
Why do we are the stamina orbital rowing machine?
There are many reasons behind the love of this product. The Stamina 35-1215 Orbital Rowing Machine with Free Motion Arms can provide many benefits for the upper and lower body. The stamina rowing machine provides an effective low impact workout that results in all the major body parts and muscle groups, including the back leg arm abdominal and buttock.
All stamina rowing machine users love this equipment because it is very smooth and hydraulic cylinder resistance facilities. Nobody says having any negative idea about this product. It is suitable for over tall users up to 6feet 3inch users. It can be stored in a very small place in the room corner or under a sofa.
Recommendations:
I would recommend this product if you want to use it for cardio exercise as a beginner. I was not into fitness I before use it. But I have lost 35 pounds since buying and using it for 30 minutes a day five days every week and following a better diet. It worked really well for my upper and lower body fitness. After using this product my body fitness is getting well day by day. I also recommend the Stamina 35-1215 orbital Rowing machine with the free arms is the best rowing machine for total body exercise.
The bottom line is that the Rowing machine is the king of another exercise machine. The stamina orbital rowing machine can provide many health benefits. A rowing machine is a machine who can perform by all-body exercise. This exercise machine is friendly for the cheap price and its resistance level is high quietly. If you want to save your money and home space so you can buy stamina 35-1215 Orbital Rowing machine. The price of the rowing machine is under $300. So don't waste your money by buying another exercise machine.