Last updated on August 25th, 2023 at 03:37 pm
The rowing machine is the best for cardio, upper and lower body fitness. The Sunny Health & Fitness SF-RW5623 Air Rowing machine is a unique and very efficient rower that offers both magnetic and air resistance. It is very comfortable and very easy to use and having a great workout even for vigorous users.
The Sunny Health and Fitness Air Rowing machine provide eight levels of adjustable resistance and extra air driving fan for additional resistance. The extra additional fan also serves to cool the trainee as an added bonus. The previous Sunny Health and Fitness Rowing models that I have the pleasure of reviewing I have loved. So I hope that will be great things within your budget rower.
Product Description
It has strong and fit while using the SF-RE5623 Air Rower. The rower provides eight precise Levels of resistance effectively to find the right exercise intensity. It includes the integrated fan uses air and adds more dynamic response resistance based on stroke power and speed.
A fully padded set more comfortable for non-slippery gripped handlebars provides optimal comfort and support. The Large anti-slip foot pedals with adjustable foot straps for secure footing. Digital Computer displays show your progress time, count, calories, and scan all recorded.
Sunny Health & Fitness SF-RW5623 Dimension
Product Dimension: 86.0″(L) x 19.0″(W) x 28.0″(H)
Sunny Health Website Dimension: 79.0″(L) x 30.3″(W) x 26.0″(H)
Weight capacity: 300 Ibs
Shipping Weight:70Ibs
Model Number: SF-RW5623
Sunny Health & Fitness SF-RW5623 Air Features
The Sunny Health and Fitness SF-RW5623 Air Rowing machine is a very unique and effective rower. There are many great features in this rower.
Digital LCD MONITOR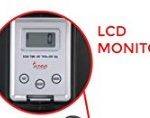 The Sunny Health and Fitness has a great LCD monitor. The LCD monitors tracking your progress on the SF-RW5623 Air rowing machine. The heart rate monitor which faster tell you how fast your heart is beating. It can help you exercise at the correct intensity for maximum results. Exercising with your Sunny Health and Fitness Air Rowing machine screen display will show the distance and time to keep you focused to progress any type of personal fitness goal.  
PORTABLE WHEELS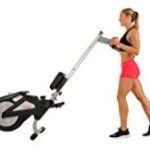 The Sunny Health and Fitness Rowing machine is a portable rower. The
portable rower
helps to store in fewer places. Just transform your home into your own personal fitness club without any effort with the convenient transport wheels. Simply tilt and roll out for use or away for storage no need for heavy weight lifting or muscle strain. The wheels at the front of the unit allow the user to move their bike around with easy and simple from room to room or store it away out of any sight.
ADJUSTABLE RESISTANCE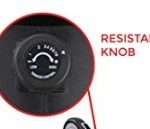 The Sunny Health and Fitness Rowing machine provide eight adjustable resistance level and extra air cool rowers. Switch up the intensity of your workout on your SF-RW5623 with the convenient tension knob. With a simple twist, you can increase or decrease resistance so your Sunny health and
fitness rowing workout
can remain challenging and effective throughout your fitness journey. The Sunny Health and Fitness users engage in different and unique routines in every workout which stimulates the muscles and full body.
ADDITIONAL AIR RESISTANCE
The additional air rower resistance provides the integrated fan creating a dynamic response with every pull and adds more dynamic response resistance based on the stroke power and speed. Add feels great to row and have a burst of cool air on your face with every full. At least the rower is very efficient for all body workout.
We Like:
Looking very gorgeous
Eight adjustable resistance level
Air magnetic resistance
Easy assembly system
Heart rating monitor
Foldable and storage
Smooth gliding
Great customer review
Best strong build quality
Affordable price
Maximum weight capacity 300 lbs
We don't Like :
Not suitable for taller users
Basic performance LCD Monitor
Doesn't provide the full range of motion
Why we love the Sunny Health and Fitness Air Rowing machine?
There are many reasons for love the Sunny Health and Fitness air Rowing machine. First, in addition to the eight levels of resistance that are available with this rowing machine, trainees also create an additional amount of resistance of the row. That air resistance which is also referred to as "drag" can be increased by rowing faster or using shorter stronger strokes. The most important thing is that the price is very affordable. The Rower has also generated air resistance.
Recommendation
All of the positive comments are deserved as this is a good value for an affordable price. The air resistance provides a nice starting point for a workout and cools down with the air in your face is pleasant. I am a large man and have no problem with the strength and stability of the Air Rowing machine, but I did have to lubricate the seat bearing to get rid of a persistent squeak.
I have been using the machine for the last two years without any problems. The only issue I would raise it that calling this an air magnetic machine is misleading the extreme. Air yes, but the only magnet is the tiny one on the seat carriage used to trigger the cycle counter. Resistance is added through a flywheel with a resistance band wrapped around it.
The sunny health and fitness SF-RW5623 Air Magnetic Rower is an overall excellent rowing machine. It provides an excellent rowing feature and tools that are smooth, strong.  People also found for an inexpensive dual resistance rowing machine will greatly enjoy this model. You are not finding other dual resistance rowing machine under $300 but there are some really well air only and magnetic only rowing machine. I also recommend that this rowing is really well worked for your full-body workout.