Last updated on August 7th, 2023 at 05:27 pm
When it comes to staying fit and healthy, having a treadmill at home is a great way to get your daily dose of exercise without leaving your home. And if you're in the market for a new treadmill, you've probably come across the Xterra 3500 Treadmill. But the question is, is this treadmill worth your money? In this Xterra Trx3500 Treadmill Review article, we'll take a closer look at this fitness equipment to help you decide before purchasing.
xterra fitness trx3500 folding treadmill specification
Dimension (Assembled): (77.2L×35.5W×56.1H) inches
Dimension (Foldable): (51.2L×35.5W×65.1H) inches
Motor Power: 3.0 HP
Running surfaces: (60L×20W) inches
Supported weight: 350 lbs (159kg)
Incline controls: (0-12) Automatic
Number of Programs: 30
Speed range: (0-12) MPH
Recommended for: Walking, Jogging & Running
Frame Material: Alloy Steel
Item Color: Silver
Cooling Fan: Yes
Handlebar Button: Yes
LCD Specification
6.5 inches blue Backlit LCD display
Bluetooth
Time, speed, distance, calories burned, and heart rate
Warranty
Lifetime warranty for frame & motor
2- Years deck & parts
1-Year in labor
Xterra 3500 Treadmill Assembly
Xterra 3500 Treadmill assembly straight forward. You can put it together quickly with the properly guided user manual. Some users feel it is simple to work for assembly. But, some users need help to make it workable and need expert assembly with additional costs. So, if you feel confident you can do it, go ahead with an assistant. You can make it functional within one hour with its step-by-step setup guide. The trx3500 device is effortless to install!! It takes less than 1 hour to assemble this instrument so that you can start walking or running in no time. All the essential information documents are included in your device; see and install them step-by-step.
Xterra 3500 Treadmill Manual
Step by step user manual guide will be provided with the verified purchase. All of the information related to troubleshooting, assembly, user guide, and different programs using the guide are described in this manual. So, anyone can use it without any fitness trainer.
Features of xterra trx3500 treadmill reviews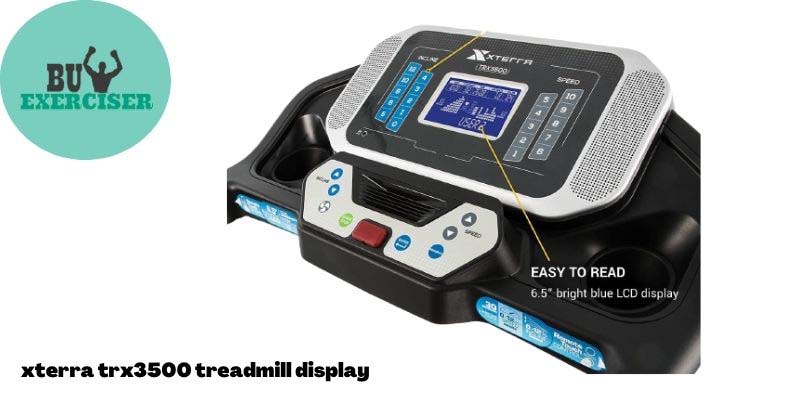 This is the perfect cardio machine for any home or gym. This commercial-grade treadmill has a sleek design with a built-in cooling fan and an impressive LCD console, making it easy to track your progress while you exercise. The powerful motor will provide plenty of power to keep up with your training, and the large running surface can accommodate users of all sizes. Below, we are discussing all features deeply.
Performance
This is the ultimate workout machine for performance. You can train yourself like an athlete with a powerful motor and high-speed incline capabilities! Performance is vital in increasing your workout. Suppose you're equipped with less quality, so it is challenging to improve your overall performance. For buying any gym machine, you must ensure that it will give you high-quality activities without disturbance.
Comfort and fold-able design
Enjoy the comfort of the soft cushioning on this treadmill's deck. It also features a foldable design that allows easy storage in small spaces. Many people also like folding equipment because it requires low space and is easy to fold up anywhere. If you want to improve your stamina with endurance, a folding treadmill is a suitable exercise machine. Thanks to the shock absorption system, this treadmill will make your training more comfortable!
Technology
Features a high-quality motor that will allow you to reach your desired speed without problems. Also, it has a built-in cooling fan and an LCD monitor that will show you all your workout statistics. Using this workout device, you will be delighted because it includes many of the latest technology, ideal for your training.
Accessibility
Features a high-quality motor that will allow you to reach your desired speed without problems. Also, it has a built-in cooling fan and an LCD monitor that will show you all your workout statistics. Using this workout device, you will be delighted because it includes many of the latest technology, ideal for your training.
Weight Capacity
This trx3500 has a weight capacity of 350 pounds, making it ideal for people looking for durable equipment to support their body weight and help them achieve their fitness goals!
Workout Programs
This treadmill comes with 30 workout programs that you can select from, including fat burn, interval training, manual mode, and more. You can also choose to run at one of the preset speeds or create your custom speed. Workout programs will help to increase your fitness levels according to your need.
Incline level
The incline level on this treadmill goes up from 0 to 12 levels to simulate outdoor runs in any season. Many people don't know about incline levels, but it is essential to your improvement.
Running surface
Ample running space provides extra comfort for a workout. Its running surface is a durable, high-traction material that provides the right amount of cushioning. You'll love how it feels under your feet and how easy it is to clean. It is designed in a (60L×20W) inches large running belt that meets your needs and helps quiet and smooth running or walking at home.
Bluetooth compatibility
For all your training needs we are trying to cover them. The Bluetooth-compatible Xterra trx3500 treadmill allows you to listen to music and watch videos while exercising. Maintaining consistency during workouts is complicated, but this option will help you.
Cooling fan
Stay cool while working out with the cooling fan. You'll be able to stay focused on your workout and not have to worry about overheating! In recent times, most running device comes with a cooling fan, so they will not overheat during your training season.
Water bottle holders
It has two bottle holders. Never get dehydrated again! Our water bottle holders are perfect for keeping hydrated during your workout.
Foldable frame & Easy to move
This gym machine is best for people who live in small houses or apartments. It's easy to move and store when not in use. The device can be easily folded, so you can take it wherever you want, such as on vacation or at a friend's house. You can also move it from home to another place without putting any pressure. trx3500.
Maintenance
Are you worried about the maintenance of your device? It has a lifetime deal; the motor and frames are 2-Years. That means we'll fix any problems without charging you anything! As a friend, I will strongly recommend you to use it.
Advantages
Durable and sturdy design
One-touch speed/incline option
Powerful motor speed
It is a foldable option & Easy to move
Extra-large running surface
User-friendly price
Excellent warranty options
Disadvantages
Missing Chest Strap
Costly Price compared to other brands
xterra treadmill 3500 reviews FAQS
Does the Xterra treadmill incline?
Your answer is yes; every Xterra treadmill has a manual incline setting from 0% to 12%. To increase the incline manually, run for 15 seconds on the flat incline, increase the incline by one level, and continue.
What is the weight limit on a Xterra treadmill?
An Xterra treadmill can handle up to 400 lbs, so the weight limit is not a problem. It becomes a concern when there is more than one user as extra pressure will be put on the motor, and strides made with heavy legs may cause vibration.
Which Xterra TRX3500 treadmill is best?
The Xterra is one of the best brands to provide verities of gym equipment. They have different types of treadmills (TRX2500, TRX3500, TRX4500 & TRX5500), but I like the Xterra 3500 treadmill, which is the best.
Summary of the Xterra trx350 treadmill
With the help of a treadmill, you can stay in shape and get the necessary exercise to maintain your health. It is an excellent choice for anyone looking for a sturdy running machine with plenty of features on a user-friendly device. If this sounds like something you need or want, we encourage you to check out the full review, where we go into more detail about all the great things this model offers!