Last updated on December 10th, 2021 at 03:28 am
Weslo Cadence G 5.9 Treadmill
The weslo cadence G 5.9 treadmill is the most popular workout Treadmill for personal use at home. The weslo running treadmill is the best for entry-level workout users who like running or quick jogging. There are several workout running treadmills available in an online shop or near the market but weslo treadmill is the cheapest workout equipped all over the world. Now I am going to describe below Weslo Cadence G 5.9 Treadmill Reviews.
The weslo treadmill g 5.9 treadmill manual comes with the treadmill that contains wonderful directions for all user to assemble this treadmill and use it properly. If you have not another consideration so I highly recommend the treadmill to start your fitness journey with this marvelous workout equipped without any problem. Let's have a nice look on weslo treadmill latest features for a workout.
Does the Weslo Cadence G 5.9 treadmill incline?
The weslo cadence g 5.9 treadmill incline is a manual incline system. It is not a very good incline system but as this cheap price workout equipment so it is great. Normally, the cheap treadmill has no incline system but it has at least two manual inclines to tones up your lower muscles. It has an only basic level of multiple incline system for single workout options, if you want to more powerful incline system so you can use the heavy-duty treadmill for more powerful incline system.
Specifications of Weslo Cadence G 5.9 treadmill
Large LCD workout monitor,
Six personal trainer workouts,
Two-position manual incline,
Include Heart rate sensors,
Space-saving and fold-up design,
Speed up 0-10 mph to 2.25 CHIP,
User weight goes to 275 lbs,
Product dimensions: (LxWxH): (68 Inches x 31 inches x 55.5 inches).
Weslo Cadence G 5.9 Treadmill Reviews & key features
Check out the latest weslo cadence g 5.9 treadmill key features which are really needed for workout user. Who like running or walking on the treadmill.
Large running belt
The big running surface area gives you long-time workout facilities and you will feel comfortable for a workout due to enough space. It has 16 inches wide and 50 inches long running surface for running or walking.
As a cheap price range treadmill, it has outstanding running area other treadmills not provide this same running surface in the price. If you want to run or walk on your small home space so it is the best option for your indoor use.
Fold up and space-saving design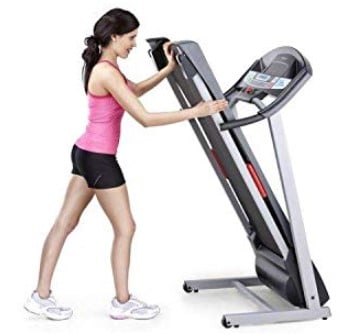 The treadmill design with the fold-up design after finishing your workout you can easily fold up and keep it any corner of your home. Every user likes folding design treadmill because it saves your space and easy to set up corner to corner without any muscle strength.
A folding treadmill is always consumed less space and very suitable for a small apartment. Most of the time all users like workout equipped, but they do not accept big space equipped so it is an ideal option for your home use.
Quiet and smooth equipped
Every workout user desires a quiet and smooth running treadmill because the big sound workout gives you a much disturbing workout. The running equipped gives you very quiet and smooth workout facilities.
If your friend sleep beside your workout equipped he doesn't feel disturbed because it has a very quiet motorized system. If you want to use a quiet treadmill for apartments, it is the best time to consider for your home use.
Six workout options
It is designed for personal use and the manufacturer develops it considering six built-in workout programs features. The very big news is that the treadmill designed by a certified personal trainer to take the guesswork out of the workout time help trainees make the most of each session.
Comfort cell cushioning
If you want to reduce stress on your joints and develop workout comfort with this ideal treadmill workout equipment, designed with a layer of cushioning for maximum stride impact absorption. I thought this treadmill will give you much better comfort of this price range treadmill.
Heart rate monitor
Heart rate monitor is very useful for the cardio workout. It is also included heart rate monitor because of it is very important for your workout sessions. Gets an accurate heart rate reading by simply placing your thumb on the easy pulse sensor that is built right into the console?
Lightweight designed equipment
Light-weight design equipped can help move from inside or outside. After finishing your workout sessions, you can easily move from corner to corner. The maximum product provider provides free shipping facilitates and very easy to assembly. Follow the diagram and step by step install your favorite treadmill that is directed in the user manual.
Warranty
The g 5.9 treadmill gives a 1-year motor warranty and 90 days for parts and labor. It is not enough excellent warranty facilities but compared to the cheap priced treadmill this sounds good.
Pros
Folding treadmill
Very cheap price equipped
Designed with six preset workouts
Comfortable cell cushioning
Heart rate monitor
Two-position manual incline options
Space saver design
Top customer review equipped
Great customer services
It s very quiet and smooth
Cons
Short warranty options
Not included displaying backlit and hard to read in lower light
FAQ of Weslo Cadence G 5.9 Treadmill
Is Weslo a good treadmill?
The Weslo treadmill is good for overall fitness lovers but not suitable for the established runner who looking very quick and vigorous running.
The treadmill is suitable for all entry-level and intermediate levels users who really like running or walking on their favorite running machine.
Does Weslo treadmill have the incline?
The most of the user get good type of incline so we can say yes, it has two different manual incline systems (1.5 percent and 6 percent). You can easily control a manual incline volume setting.
Who makes Weslo treadmills?
Many times people asked me who makes weslo treadmill. According to weslo treadmill website, it is made an economy line manufactured by ICON Health and fitness.
How much is a Weslo treadmill worth?
Basically, the Weslo cadence G 5.9 is an excellent piece of equipment which is entry level and good for those people who want to jog or walking at home. The treadmill design is really remarkable and it's selling price $280 up to $800 that's affordable for overall user. If you have not any budget issued so you can try it and strong your fitness levels as much as possible.
How do you lubricate a Weslo Cadence G 5.9 treadmill?
After some days getting used to any treadmill becomes rusty and dusty. Due to rust and dust treadmill becomes slower and noisy. So your treadmill is required to clean and lubricant. Treadmill cleaning kits and lubricants are available in online stores and treadmill. You can check our treadmill cleaning guide for treadmill maintenance.
Final thought
Before, finishing my Weslo Cadence G 5.9 Treadmill Reviews I highly recommend that if you have not other consider so pick up it without any worries.
The treadmill also gives you an excellent feature for a fitness journey, and it has a folding design and space-saving.
The price of the exercise machine is very cheap. So I think you should not see anywhere of this cheap price running treadmill in the ranges.