Schwinn 170 upright bike is the best popular bike for indoor exercise. It is a very favorite bike for fitness lovers and has excellent features that able to satisfy the user's requirements. It is a renowned company named Schwinn manufactures the best workout equipment. Schwinn is a very famous name in the cycle of manufacturing market-leading for 100 years. Schwinn 170 upright bike is a very popular item for indoor exercise. The following features and info will help you to decide to purchase your indoor exercise bike:
TECHNICAL DIMENSION:
| | |
| --- | --- |
| Parametrs | Dimensions |
| Height | 40.7 inches |
| Width | 13 inches |
| Length | 22.2 inches |
| Weight | 62.4 lbs |
| Shipping Weight | 76 pounds |
| User's weight capacity | 300IBS |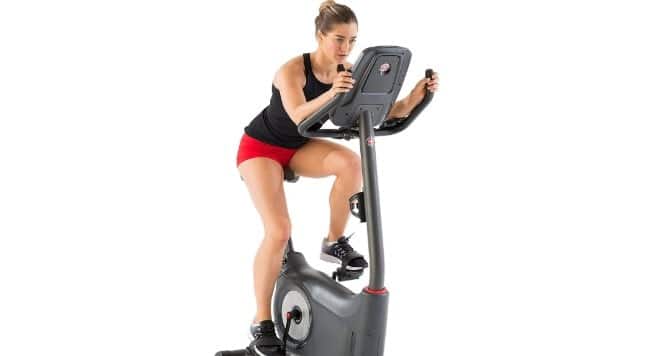 MANY FEATURES:
It is a stable workout platform for its durable structure and high-speed design.
A wide range of resistance options with 25 levels of resistance.
Schwinn 170 upright bike has a large and thick padded set for a comfortable workout.
Adjustable handlebars for a comfortable workout position.
Heart rate sensors are placed on handlebars ergonomically that can detect your heart rate during exercise.
Seat height adjustment for any user's height.
For your workout motivation, a media tray is present to keep your Smartphone or tablet.
It has USB charging and In-console speakers with the MP3 input port.
It will keep you fresh with three wheels adjusting the fan.
To keep you hydrated a water bottle holder is present.
You can move it from one place to another place quickly because it has a transfer wheel.
Display features: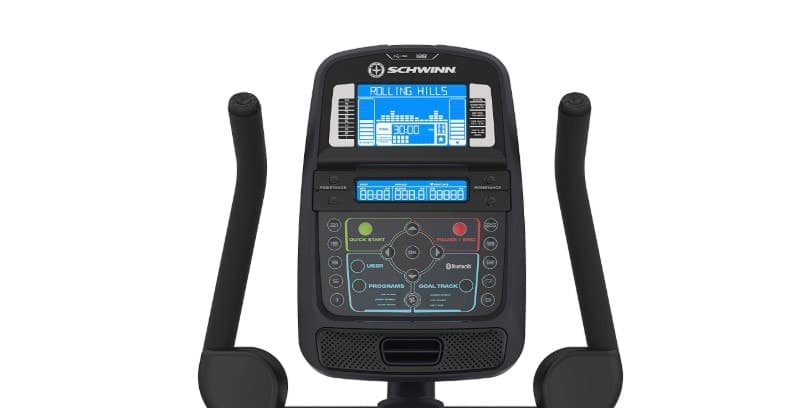 It has a DualTrack™ two blue backlit LCD display system
It enables Bluetooth and USB connectivity that connects to Schwinn ConnectTM and MyFitnessPal. You can download your workout data from your MyFitnesspal account.
Schwinn 170 upright bike includes 12 profile programs: 4 mountain rides, four fun rides, and four challenges
It features 9 heart rate programs. All programs have custom settings.
Most user-friendly and excellent programs: 2 fitness test programs to test your body improvement.
You can store your data into your four personal programs.
To measure how quickly your heart rate recovers one recovery test program exists.
It has a quick start program.
Workout data includes Cycling Speed, workout Time, and Distance covered, Level of resistance, Revolutions Per Minute, Heart Rate, Calories lose, Workout Intensity, Heart Rate Zone, Users Goal, and User Achievement.
WHY USERS LOVE IT
The price is lower than the other competitors. The bike has the same features that all other cycling bike has. But the cost is about $100 less than other competitor's indoor cycling bikes. You can read our full spin bike reviews to compare the price and quality of different bikes.
It has excellent features of display and lots of useful programs that make it a great indoor bike.
It generates smooth and quality resistance.
Easy data tracking and monitoring system.
Quiet and easy to operate.
Many Positive consumers reports.
SOME USERS BAD EXPERIENCES
Though it has mostly positive reviews of consumers, some negative are also found. Some users report that its screws become easily. One consumer reports that some parts are missing. Some consumers say that suppliers are providing them the defective item. So, it is my advice to purchase from a reliable source that has excellent warranty coverage that you can replace it easily after any problem. Schwinn provides a great deal for the user with an excellent product warranty. Keep in mind that Schwinn is a famous innovator of a cycle manufacturing company for a hundred years. So, you should not have any doubts about the quality of this bike.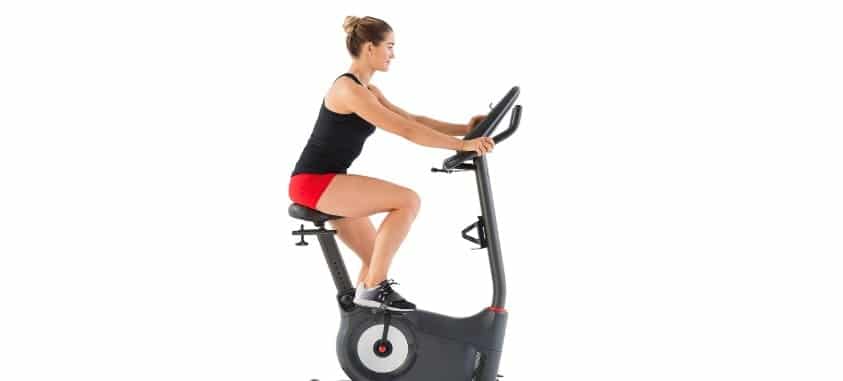 SCHWINN 170 upright BIKE ASSEMBLY:
It is straightforward for the Schwinn 170 upright bike to assemble. It will take a maximum of two hours for a single person. If you have one helper, you can join it within one hour. You will feel complicated with the parts when it will be shipped to you. But the manufacturer will provide a details guide to you to make it assembled and workable. Read the manual carefully and check the parts. Buy from the reputed supplier because some bad supplier can supply the broken components. So check it very carefully.
SCHWINN 170 upright BIKE MANUAL
The manufacturer will provide Schwinn 170 upright bike manual with this bike during shipping. This manual has the full description of the assembly and user guide to use. You should not need any trainer when you follow this manual properly. You will be able to use it efficiently using this manual.
WARRANTY INFO:
It offers excellent warranty policy for users.
| | |
| --- | --- |
| Warranty Covered | Durations |
| Frame warranty | ten years |
| Mechanical warranty | two years |
| Electrical warranty | One year |
| Labor warranty | 90days |
SHIPPING:
If you buy it from any superstore or and sports outlets, then the shipping cost will vary to a different market. It will be shipped to your home with a weight of about 72IBS.
WHO CAN USE
SCHWINN 170 upright BIKE
:
Usually, the exercise bikes are a busy item in the fitness club and GYM. Because all users love it very much and it is a recommended item by a fitness trainer. When this upright bike is in your home, it will be a busy item. Everyone will use it for fitness. It allows the maximum user's body weight up to 300IBS. From a young man to an senior person and a very overweight member of your family can use it. It is excellent equipment for you to tone up the lower part of the body.
FINAL WORDS:
The price of the Schwinn 270 upright exercise bike is lower than other bikes according to the quality. You can buy it by spending just under $500. When you spend more than $1000 definitely, you can get a user-friendly exercise bike with great features. But you can buy this bike within an affordable budget under $500. I can ensure you that you will be happy after using this exercise bike. It has an excellent warranty policy and many workout programs at a lower price. Highly recommended.
Related Posts: