Last updated on August 10th, 2023 at 04:38 am
Welcome to our pleny 3-in-1 exercise bike review and comparison from the folding exercise bike. In these reviews, we are going to discuss the pleny exercise bike. After reading this passage, we expect you don't need to see any other feature to make your buying plan.
Hence, if you want to get a piece of ideal fitness equipment that works for your full-body fitness, then a pleny exercise fold-able bike is suitable. Below, our expert team has written details about the device reviews that will make your decision easier.
Pleny 3 in 1 exercise bike key specs
| | |
| --- | --- |
| Product Dimension | 24D×16W×49H inch |
| Package Dimension | 36.5L×15.5W×11H inch |
| Power source | Battery powered |
| Product weight | 48 pounds |
| Material | Alloy steel |
| Resistance system | Magnetic |
| Maximum Height | 48 Inches |
| Minimum height | 42 Inches |
| Resistance Level | 16 |
| Drive system | Belt |
| Recommended use for | indoor |
| Skill Level | Intermediate |
| Suggested Users | Unisex-Adults |
| Weight Capacity | 330 pounds |
| Brand | PLENY |
| Color | Pink |
Pleny 3 in 1 total body workout exercise bike Key Features
The LCD Display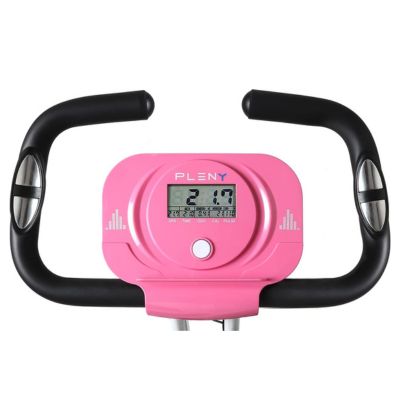 The Pleny exercise bike arrived with an excellent LCD Display to track your exercise data accurately. For measuring your activity result correctly, including in time, calories, speed, heart rate, and distance. Every fitness organizer offers an easy-to-read console for measuring your workout data and is inspired to perform better.
3 in 1 exercise bike
However, you already see the review's title and understand the topic. Today, we are discussing the 3 in 1 bike; it is the big twist on the device. Maximum cycling devices on the market give a single workout benefit, such as a stationary, upright, or recumbent indoor bike. You can get three exercise benefits at the same bike and place by buying gym equipment. This device lets you do three exercises simultaneously and place without changing any machine. This is a suitable exercise bike for your small house or apartment.
Tension knob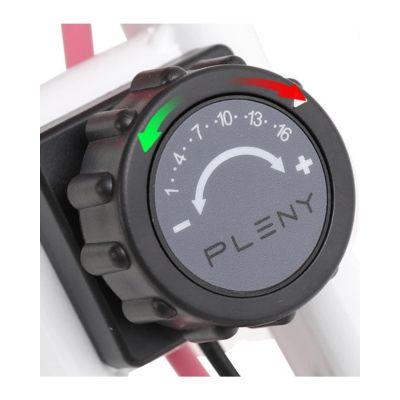 Using the apparatus, you can easily adjust your speed from level 1 to level 16 without hassle. Most importantly, it is a magnetic resistance system that most bike lovers prefer. And by exercising through this magnetic resistance system, you can take up the challenge of exercising in any way. So, be ready to accept any activity challenges.
Arm Resistance bands
You will see a resistance band below the handlebar, with which you can work on your lower body and arm muscle building. Unfortunately, gym device manufacturers supply resistance bands with very few devices. On the other hand, at the bottom of the seat, you will find another leg resistance band to increase the strength of your legs.
Exercise bike with backrest
The large and comfortable seat is easily suitable for different types of users interested in completing their training. Exercise the bike with a backrest and reach your desired goal easily without any injury. Remember that a standard gym machine is essential for reaching your goal.
Design & Frame
Everyone wants an excellent walkout session without the hassle, but a stable device is very much needed. The shape of this indoor bike is a V shep frame suitable for holding 300 lbs weight. Too many people think that v-shape frames are not ideal for overweight users, but the idea is not right now. With the pleny instrument, heavy users can perform efficiently.
Anti-slip foot pedal & flywheel
It is common to slip your legs while exercising, but many instruments do not allow your feet to slip because their feet pedal is anti-slip which is suitable for performing the program and keeping your feet in the right place.
Shipping & Assembly
This fantastic pink folding bike will shift very quickly from the seller. Unfortunately, very few sellers provide short-time shipping facilities for quick getting the purchasing equipment. Below, you can see the assembly video where discussions about the topic.
Exercise bike full-body workout
Everybody expects full-body exercise equipment for indoor use. But, finding the exercise bike for the full-body workout takes a lot of work. For the solution, we have discovered an indoor device named the total bike. It can improve your total body fitness and stamina just by using a spin folding exercise machine.
Pleny exercise bike replacement parts
The pleny indoor pink folding bike is straightforward and effective for strength training workouts. Using the instrument, you didn't need to replace any parts. If you think that any parts will disturb you, you can easily fix or replace them.
Comparison To PLENY VS YYFITT  Exercise bike
| | | |
| --- | --- | --- |
| | PLENY Folding Exercise Stationary Bike | YYFITT 3-In-1 Folding Exercise Bike |
| Price | Cheap price | Cheap price |
| Brand | PLENY | YYFITT |
| Weight Capacity | 330 lbs | 260 lbs |
| Dimension | 24D × 16W × 49H inch | 20D × 38W × 45H inch |
| Display | LCD | LCD |
| Foldable option | Yes | Yes |
| Resistance | Magnetic 16 | Magnetic 16 |
| Color | Pink | Red |
FAQS of Pleny exercise bike
 
What sets the Pleny 3-in-1 Exercise Bike apart?
 
The Pleny 3-in-1 Exercise Bike is a versatile fitness solution that combines three distinct workout modes into a single compact unit. This innovative design allows users to seamlessly switch between upright cycling, recumbent biking, and a unique, full-body resistance training mode.
 
Can I adjust the resistance levels on the bike?
 
The Pleny 3-in-1 Exercise Bike lets you customize your workout with adjustable resistance levels to suit your fitness level and goals. This feature ensures a personalized and challenging exercise experience that can evolve as your strength and endurance improve.
 
How do I switch between the different exercise modes?
 
Switching between exercise modes on the pleny exercise bike is straightforward. Adjust the seat and handle positions for upright cycling, recumbent biking, or resistance training. The clear instructions in the manual make mode transition effortless, ensuring a seamless and versatile workout session.
 
Summary of the Pleny foldable exercise bike

Ultimately, we are happy to discuss A to Z about the pleny of 3-in-1 exercise bike reviews. So many people want to know about 3-in-1 bikes, but very few people cover this topic. So we are first Wright the details on the device. We hope this paragraph will help to get the best pleny foldable exercise bike for home use.