Last updated on July 31st, 2023 at 04:29 pm
The Murtisol stationary exercise bike is a very stylish design and comes in especially for women who like riding for slim overall fitness. The exercise equipment is very well designed and best for cardio workout and offers lots of features with superb value. In this article, I am going to tell about this Murtisol Stationary Bike Reviews.
Get a well, known the famous brand and get a good body shape, with cycling it is very good for a cardio workout and lower body muscles. Applying non-rusting steel with sturdy structure loaded with the resistance band, twister plate, push up handles and padded back. This bike is building for indoor cycling muscle training, waist twist the transportation wheels it is easy to move corner to corner.
If you continue the workout with this super stylish design folding exercise bike with the backrest then you will reach your fitness goal. It is specially built for women but all users can use it because it is a very lovely colorful cheap exercise bike. Stay with us for exploring exciting features.
Murtisol Stationary Bike Reviews & Specification:
Twister plate with push up handles
Color full folding bikes
Best for cardio options
Adjustable seat with the backrest
Colorful LCD digital screen
Heart rate sensors
Best exercise bike under 200
Top-quality exercise bike
Compact exercise folding bike
Flywheels weight 3.3 lbs
Maximum user weight 264 lbs
Adjustable inseam height 31-36 inches
Bike Dimension 47 L × 20 W × 46 H inches
Murtisol Stationary Bike Key Features:
Here, all feature best for your full-body motivated and good for cardio options. This is a very unique and ideal exercise bike for your indoor exercise.
Height adjustable system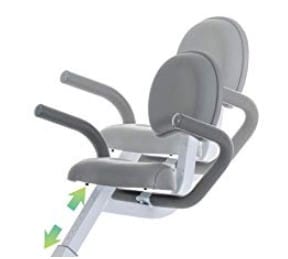 It is a very essential option for the different user who likes riding but weight and height is the problem, so this exercise bike gives 7 levels of the height-adjustable setting for a different user.
The folding exercise bike basically designs for indoor use that like real riding experience but unlike small space. Most of the women user loves this equipped because of the stylish design with super performance, I assure that it is complete your cardio workout.
Twister plate with Push up Handle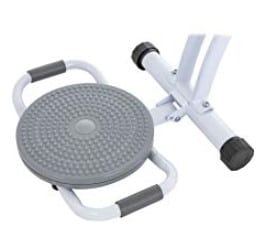 Twister plate with push up handle is much unexpected because fewer exercise bikes add this option and this folding exercise one of them.
When you feel boring riding workout than you try a new workout, as a result, you don't feel boring and build your strength and stamina.
Push up handle is a marvelous addition for your riding journey, keep riding your workout journey.
The Resistance levels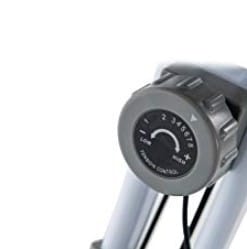 Without excellent resistance levels, you feel uncomfortable and unhappy that's why you lose your workout attention.
The Murtisol stationary bikes offer adjustable 8 levels of magnetic resistance if you want to increase and decrease it so you can do it easy.
Most people want to magnetic resistance equipped for quiet and smooth riding experience, so it is a good choice for yours.
The comfortable seat with the backrest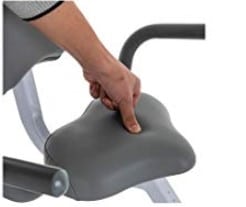 The comfortable seat offers long-time hassle-free workouts facilities, it is proven that without more comfort you do not continue your workout journey. Every exercise provider provides comfortable seating positions for the long-time workout as results easily reached your goal.
During start workout, you feel better and happy because of the good quality exercise bike performance. Not only a seat but also backrest is another option for the stationary exercise bike it gives you more stamina for during workouts. It is another best exercise bike under 200 for stylish women who like a stylish stationery folding exercise bike.
The Fitness Monitor with Resistance band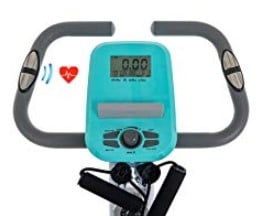 The large 3.5 inches Fitness LCD monitor tracks your fitness progress like pulse, workout time, speed, distance calories and RPM with include pulse sensors on each of the handlebars. The resistance band is a really good addition in this exercise equipped, workout your arm chest muscles to get a tighter body.
Use the excellent resistance bands to intensify your strong muscles and build that perfect beach body. Not only lower body muscles but also upper body muscles strong this exercise equipped both of benefits to give this folding exercise bike.
The adjustable pedals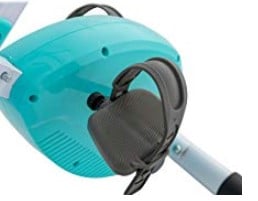 The stationary folding bike arrived the fully adjustable pedal with foot straps, so that easy to adjustable different size of people's feet and doing the workout without any injuries.
This is a very great challenge of each equipped that injuries free workout and offer low impact workout option. Most of the women happy with riding this exercise bike for a price, performance, and design.
The Foldable and lightweight design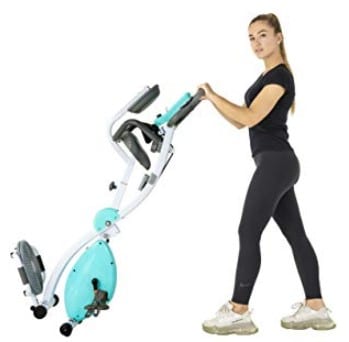 Although, the murtisol folding bike is truly real design with space-saving and easy to fold up design.While, After complete your activities session you can easy to fold up and keep it corner of your home. Especially, most of the people like murtisol bike because of fold-able option and attractive color.
Lightweight design can also help easy to move around the room to room without any major injuries and muscle strength. I hope you can easy to move murtisol folding bike as your requirements.
Easy to transports facilities & Easy Assembly
The transportation facilities are the very essential mater for this bike when you're going to a long drive or trip you easy to transport. There are many famous brands equipped to really thinking about these options.
Based on the murtisol website, this is very easy to assembly required only half-hour. Check the diagram and follow the instruction I hope you make easy to install.
Positives:
Best folding exercise bike,
Come to three different colors,
Extra-large cushion seat,
Adjustable paddle,
Fitness tracking LCD monitor,
Super built materials,
Five starts equipped,
Great services,
High level of magnetic resistance,
Elastic resistance band,
Twister plate with push up handle,
Phone holder,
Space-saving bike,
Very quiet and budget-friendly,
Fun and lightweight.
Negatives:
No warranty information
It is not for the heavyweight user
Murtisol Stationary Bike FAQ
Do stationary bikes really work?
Due to the, high calories, burning opportunities and effective way to strong overall body fitness, it's the perfect solution for you indoor.
The murtisol bike is really outstanding equipped for weight loss and improve strength levels, prevent heart attack and much more.
In this price, it is really difficult to find out the best quality exercise bike for your physical activities. This exercise bike is truly ideal for your cardio development and much more essential activities.
Finally, if you compared to the other high-range bike, so it is number one for you're needed.
It's improvement your cardio health and prevent a heart attach, diabetic risk, and much more health issued will prevent.
A final thought about Murtisol Stationary Bike
Would I recommend murtisol Stationary folding exercise bike for great cardiovascular workouts, using a thesis exercise bike without any problem? The equipped basically design for women but both of gender uses it very confidence, it really boosts your confidence levels.
If you have not another so it is best for you to consider and use for indoor use because it gives space-saving, folding and easy to move facilities. I expect full-fill of it your fitness requirements, Thanks for reading full reviews and continue with us! See more exciting budget-friendly exercise bike for home use.